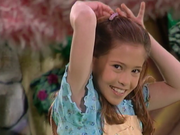 Carly Naples (born in 1988 as Carly Leanne Naples) is an actress and dancer that was a Kidsongs kid from 1997-1998. Her movie appearances were Suzy Bailey from Donnie Darko and Young Jules from A Time for Dancing.
Appearances
Edit
A Time for Dancing (Young Jules) (2002)
Donnie Darko (Suzy Bailey) (2001)
Kidsongs: Adventures in Biggleland: Billy's Birthday (1998), in where she wore a pink and purple dress with white leggings in "You Can't Sit Down" and an aqua green shirt with green and yellow plants over pale yellow overalls.
Kidsongs: I Can Dance! (1997) in where she was best seen in "At the Hop", wearing a 60s dress.
In her spare time, she loves to watch "Dirty Dancing" and dance to "The Time of My Life", her favorite song.
Ad blocker interference detected!
Wikia is a free-to-use site that makes money from advertising. We have a modified experience for viewers using ad blockers

Wikia is not accessible if you've made further modifications. Remove the custom ad blocker rule(s) and the page will load as expected.