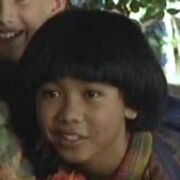 Christian Tyler Buenaventura (born September 5, 1983 in Los Angeles, California) is a former child actor who was in many of the Kidsongs videos through the 1990's: Kidsongs: We Wish You a Merry Christmas, Kidsongs: Play Along Songs, Kidsongs: If We Could Talk to the Animals, Kidsongs: Country Sing-Along, Kidsongs: Boppin' with the Biggles, and Kidsongs: Let's Put on a Show. Christian was seen in season 2 of the Kidsongs television show in 1994 and he was also seen in the first two Mickey's Fun Songs videos with Michelle Montoya, Tiffany Burton, and Shira Roth.
He replaces Teddy Lee in 1992.
He is now a sound post producer and a musician on the guitar.
Ad blocker interference detected!
Wikia is a free-to-use site that makes money from advertising. We have a modified experience for viewers using ad blockers

Wikia is not accessible if you've made further modifications. Remove the custom ad blocker rule(s) and the page will load as expected.