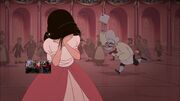 Kidsongs: Adventures in Biggleland: Billy's Birthday is twenty-fourth entry of Kidsongs Music Video Stories was released in 1998.
Biggle Cast
Edit
William "Billy" Biggle
Mrs. Biggle (William "Billy"/Ruby Biggle's Mother)
Mr. Biggle (William "Billy"/Ruby Biggle's Father)
Ruby Biggle
Freckles Biggle
Chef Biggle
The Kidsongs Kids
Edit
Airing on PBS Kids Sprout.
This is the first video to feature Angelica Ginn, Freckles Biggle and the Biggleland song and last season 6 of The Kidsongs Television Show episode and first and last episode to feature Billy and Ruby's parents and the Biggles chef and last episode to feature Carly Naples, but she was still in the opening and ending titles and credits until the end.
Ad blocker interference detected!
Wikia is a free-to-use site that makes money from advertising. We have a modified experience for viewers using ad blockers

Wikia is not accessible if you've made further modifications. Remove the custom ad blocker rule(s) and the page will load as expected.