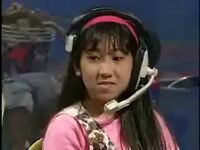 Megan Manami Miyahira (born July 24, 1984 in Los Angeles, California) was a Kidsongs cast, appearing in the following Kidsongs videos in these 5 years:
Other roles
Edit
Christina in the 1992 film, Rage of Vengeance.
Jewel in 2 episodes of the Disney Channel TV show: Even Stevens.
Megan speaks English, Spanish and Japanese.
She shares a birthday with another Kidsongs kid Andrea Schuette.