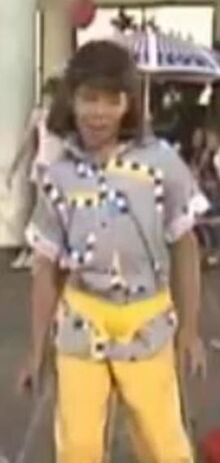 Tina Marie Espinoza (born on July 6, 1976 in Los Angeles County, California) (who is probably Puerto Rican-American) was a Kidsongs kid who starred in the following videos: *Kidsongs: Good Night, Sleep Tight (1986) where she played Kathy Honey, Kidsongs: I'd Like to Teach the World to Sing (1986) where she made a cameo appearance in "Los Pollitos", *Kidsongs: Cars, Boats, Trains and Planes (1986) *Kidsongs: A Day with the Animals (1986) *Kidsongs: Sing Out, America! (1986) *Kidsongs: What I Want to Be! (1987) *Kidsongs: The Wonderful World of Sports (1987), and *Kidsongs: A Day at the Circus (1987). She also appeared in the last 6 episodes of The Kidsongs TV Show as the producer in 1988. She has a sister named Kristy. In 1989, Tina was replaced by Katinka Chun/Suzanne Aoki.
Ad blocker interference detected!
Wikia is a free-to-use site that makes money from advertising. We have a modified experience for viewers using ad blockers

Wikia is not accessible if you've made further modifications. Remove the custom ad blocker rule(s) and the page will load as expected.